The programs identified below are federally supported and federally funded through the United States Department of Agriculture (USDA) Natural Resources Conservation Service (NRSC).

Grassland Reserves Program
The Grassland Reserves Program (GRP) is part of a farm bill that was designed to protect and restore prairie grasslands. Through entering into an agreement with the NRSC, farmers, ranchers and private landowners are offered financial and management incentives that allow them to maintain viable ranching operations, while also protecting grasslands that would otherwise be converted to cropland or grazing fields.
The program invites landowners to enter into a "rental" agreement with the USDA, NRCS, whereby the landowner specifies the amount of offered acreage (some states have parcel size minimum requirements), and the length of the lease. The grasslands current ecological condition, and/or its restorative potential and ecological value are calculated using a GRP Self-Assessment Questionnaire completed by the landowner and a Grassland Reserve Ranking form completed by an NRCS planner. Based on these assessments, payment amounts, which include restoration costs, are determined.
Sign-ups for the Grassland Reserve Program are accepted at USDA Service Centers on a continuous basis.
To receive information on eligibility requirements, ranking sheets, self-assessment documents, easement options,
and GRP rental rates and other information go to http:www.or.nrcs.usda.gov/programs/grp.html.
Or contact your local USDA, NRCS Service Center.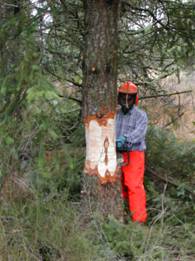 Wildlife Habitat Incentives Program
The Wildlife Habitat Incentive Program (WHIP) is a voluntary program for landowners who wish to develop and/or improve wildlife habitats on their property. Or for landowners who have been unable to meet all the eligibility requirements of other USDA conservation programs.
The WHIP program invites landowners to enter into a voluntary agreement with the NRSC to restore, improve or develop habitats. Through this agreement the landowner receives technical assistance and financial assistance, up to 75 percent cost-share. WHIP agreements generally last 5 to 10 years and have proven to be highly effective at habitat restoration. See our Landowner Spotlight on the WHIP project. WHIP programs continue to be widely accepted across the United States.
To find out how to sign up for WHIP, or to find out more about this effective program, including question and answer information, a complete program description, including current federal regulations go to http://www.nrcs.usda.gov/programs/whip/ or contact your local USDA, NRSC office.